Raymond William Treacy (1896-1938) Professional Golfer
<![if !vml]><![endif]>

<![if !vml]><![endif]>

<![if !vml]><![endif]>

<![if !vml]><![endif]>

March 21, 1915 The Houston Post (Texas) [picture]

Professionals with the Texas golf clubs...Raymond W. Treacy, the youngest of the Texas professionals, is but 21 [19] years of age, but holds the position at the Oleander club of Galveston. Treacy grew up alongside of the wonderful Chick Evans and was caddying at the Chicago Golf club at Wheaton Ill, at the same time. Professionally, Treacy has been connected with the Wheaton Golf club In 1911, 1912 and 1913, was not attached In 1914 and only took charge at Oleander this winter.

28 February 1917 Indianapolis News (Indiana) [picture]

Doc Treacy. W. R. Treacy, who has become known to golfers of Highland and the Country Club as Doc Treacy, will be professional and head instructor at the Anderson Country Club this coming year. Doc originally came north from Texas and began his career as instructor under Arthur Clarkson in Chicago. When Clarkson became professional at Highland he brought Treacy with him to Indianapolis. Later Treacy became an assistant to Lee Nelson at the Country Club and this winter is aiding Nelson in work at the indoor golf school in the L S. Ayres & Co. building.

Treacy is recognized as one of the best instructors who ever taught golf in Indianapolis. Although unusually quiet In his methods, this young Instructor is said to be able to "spot" the most minute fault In the game of even champion golfers and is able to correct that fault with the greatest possible ease.

In 1929 he was runner up in the Wisconsin PGA Stroke Play Championship

March 1, 1938 Des Moines Register (Iowa)

Treacy, 42, Former P.G.A. Official, Dies GRAND RAPIDS. MICH - Raymond W. ("Doc") Treacy, 42, professional at the Kent Country club and secretary of the National Professional Golfers association

March 1938 Golfdom

R. W. Treacy, PGA ex-Official, Dies Following Operation

R. W. (DOC) TREACY , gen. mgr. of  the Kent CC., Grand Rapids, Mich., died at the Blodgett Memorial hospital, Grand Rapids, Feb. 28, of complications following an appendicitis operation performed on Feb. 22.

Treacy was 42 years old. He was born at Aurora, Ill., and entered golf as a caddie at the Chicago GC, Wheaton, Ill. He served successively as pro at Indiana, Texas, Illinois and Wisconsin clubs prior to joining the Kent organization two years ago. He is survived by his widow, a son, his mother and a brother; the latter two residents of Texas.

Doc was one of the best known non-tournament pros. He was president of the Wisconsin PGA for several terms and served some years as secretary, vice pres. and member of the executive committee of the national pro association. During the last two years he had not played much competitive golf, although he retained an excellent game. He was a fine instructor, and as his Kent job of being pro, greenkeeper and house manager indicates, was a thorough and able golf businessman.

Pro golf has been benefitted greatly by Treacy's services. He was a fellow of keen, sound judgment, high courage and a philosophical sense of humor. His character commanded the respect of the thousands of amateurs and pros with whom he had come in contact.

To his family goes the deep sympathy of the many who considered Doc Treacy one of the finest of friends
James Tracey, 23, b. 1864 (s. of James Tracey & Mary Glenn [Glynn of Dunmore Galway?]) married Theresa Stolze, 23, b. 1864 (d. of Bartley Stolze & Margaret Sebold) 3 Jul 1887 Kane, Illinois, United States
1900 Census - Aurora Township Aurora city Ward 4, Kane, Illinois, United States
James Tracy                 Head   M         36        Ireland, Immigration Year 1881, b. Dec? 1864, naturalised, Blacksmith RR, R&R
Theresa Tracy Wife    F          36        Germany, married 8 years 3 child
Margaret Tracy            Daughter         F          13        Illinois
Tom Tracy                   Son      M         9          Illinois
Raymond Tracy          Son      M         4          Illinois
Margaret Tracy, 21, b. 1887 (d. of James Tracy & Teresa Stolze) married Joseph Dupre 29, b. 1879 (s. of Christian Dupre & Louise Vollman) 29 Oct 1908 Kane, Illinois, United States
1910 Census - Aurora Ward 3, Kane, Illinois, United States
Jas Tracey                    Head   M         46        Ireland, Immigration Year 1883, Na, Blacksmith, Railroad shop
Tressa Tracey Wife    F          45        Germany, 23 years married 3 children, Immigration Year 1883
Thos H Tracey             Son      M         18        Illinois
Raymond W Tracey    Son      M         14        Illinois
Alexander Peoples      Boarder           M         46        Illinois
1920 Census - Justice Precinct 3, Brazoria, Texas, United States
James G Treacy           Head   M         54        Ireland, Immigration Year 1872 Na 1874, farmer
Theresa Treacy            Wife    F          54        Germany
1930 Census - Precinct 3, Brazoria, Texas, United States
James W Treacy          Head   M         65        South Ireland, Immigration Year 1884, farmer dairy farm
Theresa Treacy            Wife    F          65        Saxon Germany
Thomas H Treacy        Son      M         37        Illinois
James Treacy, died 13 May 1936 Pearland Brazoria Texas United States, Married to Theresa Treacy, born 4 Jan 1864 Ireland, Informant Mrs Theresa Treacy
Theresa Treacy, died 20 Sep 1939 Pearland Brazoria Texas United States, Widow of James Treacy, born 28 Oct 1864 Germany, d. of Bartel Stolze, Informant Thomas Treacy
Thomas Treacy died 25 Sep 1939 Pearland, Brazoria, Texas, United States, Single, born Illinois (s. of Jim Treacy & Thresa Stolle), Arthritis since 1914
1930 Census - New Berlin, Waukesha, Wisconsin, United States
William R Treacy        Head   M         33        Illinois, Father born Ireland, Mother born Germany, golfer, professional
Matilda Treacy            Wife    F          35        Switzerland
John C Treacy             Son      M         5          Illinois
Raymond W Treacy died 28 Feb 1938 East Grand Rapids, Kent, Michigan, United States, Age 42, Married, born  6 Feb 1896 Illinois (s. of James Treacy & Teresa Stolce)
1940 Census - Ward 3, Grand Rapids, Grand Rapids City, Kent, Michigan, United States
Mary M Treacy           Head   F          49        Switzerland
John Treacy     Son      M         15        Illinois
<![if !vml]>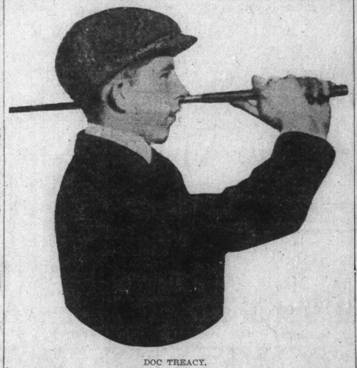 <![endif]>
Mr. John Clement Treacy, Ph.D., Assistant Professor of Chemical Engineering. B.S. in Ch.E., Univ. of Notre Dame, 1945; M.S., ibid., 1948; M,.S., Univ. of Wisconsin 1948, Ph.D., ibid, 1953 (1950)
May June 1955 Notre Dame Alumnus
April 1955 Golfdom
"Doc" Treacy's Son Killed in Notre Dame Explosion
Dr. John C. Treacy, 30, son of the late R. W. (Doc) Treacy, for many years prominent in PGA affairs, was killed March 31, in an explosion during fuel tests in a rocket test cell at the University of Notre Dame. Dr. Treacy, an asst. professor of chemical engineering, was born when his father was pro at Danville (111.) CC. He graduated from Notre Dame in 1945. He took his master's degree there in 1947 and obtained a doctor's degree from the University of Wisconsin in 1949. He was married to the former Mary Ann Owens of South Bend. They had three children. His mother now lives in Grand Rapids, Mich.
John Clement Treacy, Farrington Daniels. Kinetic Study of the Oxidation of Nitric Oxide with Oxygen in the Pressure Range 1 to 20 Mm.1. J. Am. Chem. Soc., 1955, 77 (8), pp 2033–2036
16 Aug 1962 The Milwaukee Sentinel
Wedding Creates Family of 18 [see below]
November 30, 2011 Jay A. Young, 91,...Survivors include his wife of 49 years, Mary Ann Owens Treacy Young of Silver Spring...four stepchildren from his second marriage, Eileen Kacmarynski of Birmingham, Ala., Michael Treacy of Columbia, John C. Treacy of South Bend., Ind., and Cathleen Robinson of Chelsea, Ala....
<![if !vml]>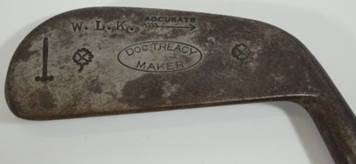 <![endif]>                  <![if !vml]>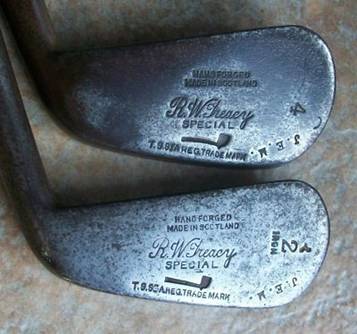 <![endif]>
Last update: 30 July 2016