The Shamrock, 21 December 1867, Vol III No. 64
<![if !vml]>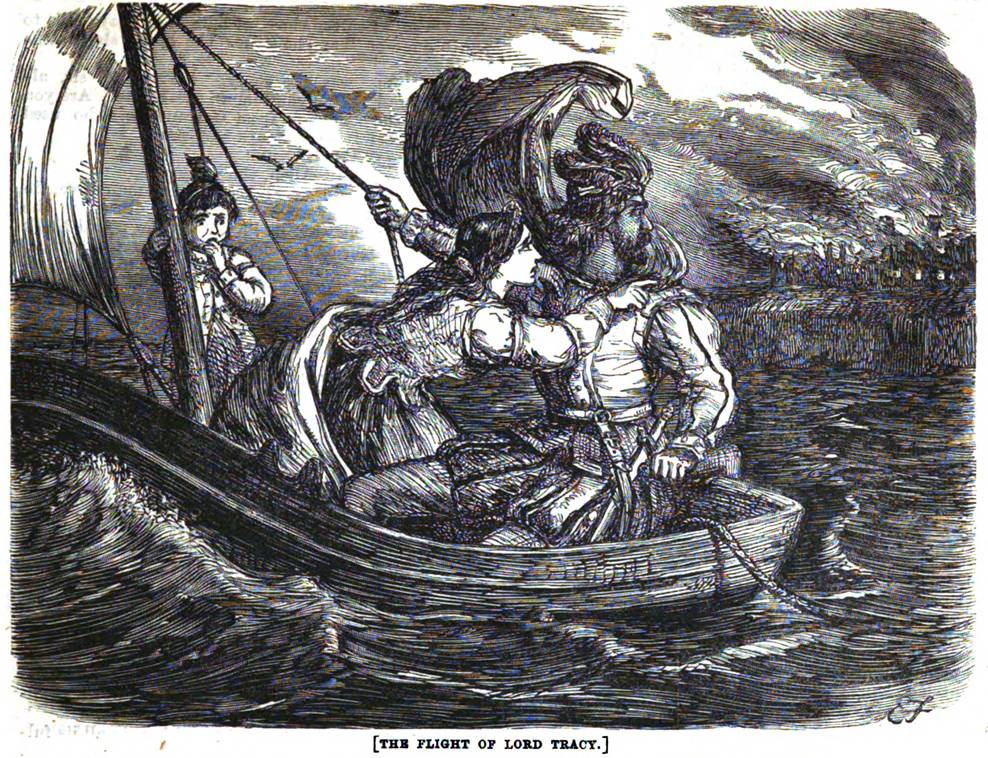 <![endif]>
The blunt captain gave a jump, but there was instant pressure put upon him, and at last he recollected a manuscript sent him by a brother in the French service. He was allowed to go forward on parole, and returning faithfully he read in a voice of hoarse thunder this story of the old time:
LORD TRACY'S STORY.
On Flanders' fields the camp-fires blazed,
Like lurid planets, as the night,
One barricade of cloud and storm,
Stood up between us and the light.
The bugle stopped its minute blast,
The charger on the grass was dumb,
But still there burst at intervals
The sharp roll of the signal drum.
Around the fires we gathered thick,
Half blinded by the wine-tossed smoke;
And some of wives, or sweethearts snng,
And some of Mother Ireland spoke.
But there sat one amid our crew,
Pallid and fair, who said no word;
Upon his head a rain-dank plume,
Between his knees his crescent sword.
Upon his mighty bridge-like brows
There sat the weight of many years;
Of suffering so quick and keen,
That never room remained for tears.
White was his lip, and whiter grew,
As some hoarse voice from out the throng,
Trolled a loud balled, strong and sweet,
Of Ireland, and of Ireland's wrong.
We seized the chorus, and we pealed
Its student measure twice again ;
Before us in the rainy night
Camped the bewildered Englishmen.
We took the chorus, and we cried :
"Glory to Ireland, though she be,
Strangled by ruffian robber's hands,
Bedside the ever-moaning sea.
"To-morrow we'll avenge her cause -
No braver cause has ever stood,
And drink her forfeit liberty
In theirs - the proud oppressor's blood."
"Ah, Foreigner," said one of Us,
"You feel no pity for our grief,
You cannot comprehend our rath;
God, would you were an Irish chief!"
Up leapt he from his still suspense -
"If I'm not Irish, what are you?
If the Celt's blood is not in me,
Then may these veins run cold with dew.
"I am THE TRACY, banned, despised,
Exiled as you; condemned to go
For ever betwixt land and sea,
Whilst I shall live, and waves shall flow.
Ah, many, many, many a year,
Has tided the dull seasons o'er,
Since last I looked, with bursting heart,
On Donegal's enchanted shore.
"My father scorned the Saxon sway,
My mother scorned it stronger still;
He thought the cause, with its bare arm,
Would crush them by the nation's will.
"Then with brigade, and black platoon,
Before our castle gates they came
The red ranks of the English foe
And girt us like a sudden flame.
"I watched them through the loophole slit,
A lad, I watched them day by day;
And saw their batteries at work,
And heard the drums and triumpets bray.
"They pushed their trenches in our teeth,
Their muskets smote our stoutest spears,
And fire rained on us from the press
Of capped and cuirassed grenadiers.
"And ever through that long siege stood
My gallant mother, where the strife
Leaped to the agonies of hell,
And men, of all, thought least of life.
"'Scatter the rogues,' my father cried,
His armour cracked, his surcoat rent,
'Scatter the English Buccaneers,
GOD's curse upon the Parliament.'
"And out they rushed, and on they swept;
O hope forlorn! aback they drave
As the wrecked hulk is shored and tossed
Before an overwhelming wave.
"Rather than strike the Irish flag,
Rather than yield the foe's desire,
We lit the castle wards, which loomed
Down through a panoply of fire.
"And sent a light o'er sea and land,
That mournful midnight, nigh to June,
Which held in smoke the summer stars,
And steeped in blood the sinking moon.
"Across the yielding sea we fled,
Before the shrilly singing gale;
The fire of earth, the light of Heaven
Made mystic glamour on the sail.
"Our small boat cut the perilous deep,
And from the frail mast I looked back,
And saw an arrowy path of blood
Swelter and crimson in her track.
"We reached at last the jovial shores
Of happy and beloved France,
And saw the smiling villagers,
And heard the pipes' wild dissonance.
"There we were Celts amongst the Celts,
One manner born of speech and face;
God's blessings on them this stern night,
That kindly, loving Gallic race.
"My mother died amidst their midst,
She sleeps beneath a cypress tree
In a far hamlet, hid in vines,
Deep in the heart of Brittany.
"A thousand flowers blow on her grave,
Christ's lilies shine around her head;
And may the guardian angels sit
For ever at her feet and head.
"My father perished in the wars,
And he lies sleeping at her side;
Ah, holy soil of holy France,
Keep them intact and sanctified.
"Until the resurrection trump
Shall peal between the earth and skies,
And the great spirit, clothed in flame,
May burst the doors of Paradise.
"For ne, I had a soldier's life,
Free lance in all the German wars;
I loved the smoking bivouac,
The costless canopy of stars.
"I loved no maiden, sought no bride,
But at my heart there ever lay,                     
Hate for the hated Saxon churls,
And thirst for an avenging day.
"When Ireland's flag at last should fly,
In the full front of friendly ranks;
Thank God at last it flies to-night
Above our brothers, and the Franks.
"What more! that I am of your crew,
The Tracy. Look, the daylight breaks,
And morning passes like a dream
Of light o'er meadows, streams, and lakes.
"True, Lord, the fire is in our front,
By fathers' wrongs and mothers' tears,
Down on that line of alien Red -
Avenge the unforgotten years."
And we avenged, as we rolled back
The dense battalions of the foe,
Until we smote them left and right,
And hurled them in the stream below.
Lord Tracy led the desperate fight,
And in its thickest carnage fell,
O Virgin Mary, pity me,
That I should live this day to tell.
Last update: 01 May 2021