Birth Register in Ireland
The State registration of births in Ireland began in 1864. Poor Law Union - or PLU's were districts created under the Poor Law Relief Act of 1838 (aka the Poor Law). PLU's became 'General Registrar's Districts', areas within which births, deaths and marriages were compiled. Some districts covered areas that are outside of county boundaries.
The birth registration reference details for Tracey and variants spellings from 1864 to 1899 are available on the website.
The numbers after the name refer to the Volume and Page of the registration book stored at the Oifig An Ard-Chláraitheora (General Register Office).
These records are available online from the State genealogy website.
http://civilrecords.irishgenealogy.ie/churchrecords/civil-search.jsp
For certificates not available online, Photocopies of entries in the registers are available at a current cost (2011) of €4 in person (plus a search fee of €2) and €6 by post. These contain exactly the same information as a Certificate but are only of use for research purposes. Details and application forms are available at:
http://www.welfare.ie/en/Pages/Apply-for-Certificates.aspx
AND
http://www.irishgenealogy.ie/en/civil-records/help/i-want-to-get-a-copy-of-a-certificate-what-do-i-do
If you have a copy of a certificate, please send us a copy or the details stated. We will use this information to add to the website. Birth certificates contain the following information:
Date of birth, father's name, mother's name and maiden name, father's profession and address.
It is also possible to search in person the hard copies (volumes) of the Births, Marriages and Death at the Genealogy Section of the Civil Registration service located at the 3rd Floor of the Abbey Mall, Abbey Street, Dublin 1. You will need to ask for directions at the main reception, as the offices are difficult to find and not sign-posted (as far as I could see). To search the records you have to pay a fee of  €2 and fill out a form. You can also request them to do a search for a fee of  €20. To order a record, there is a fee of  €4 and a form requiring the name, district, year, quarter (if applicable), volume and page number. You can only order 5 records per visit and it takes approximately 30 minutes for a record to be printed. Although the staff are friendly, I did not find the bureaucracy to be user friendly.
These records indexes have also been put on microfiche by the LDS, and most are available on-line https://www.familysearch.org/
You can search for the PLU's (and the townlands, parish etc) at:
There is also a PLU map with a list of townlands included at: http://www.irishtimes.com/ancestor/browse/counties/plumaps/#maps/
<![if !vml]>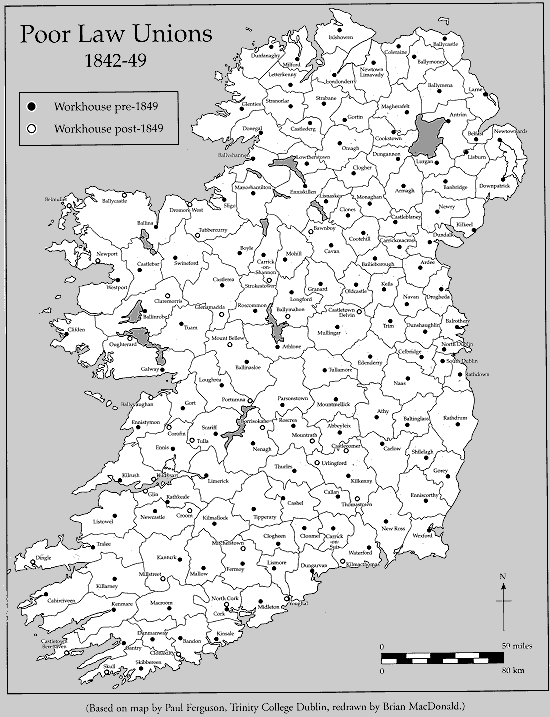 <![endif]>
| | | | |
| --- | --- | --- | --- |
| District/PLU | County | County | County |
| Abbeyleix | Leix | | |
| Antrim | Antrim | | |
| Ardee | Louth | Meath | |
| Armagh | Armagh | Tyrone | |
| Athlone | Roscommon | Westmeath | |
| Athy | Kildare | Leix | |
| Bailieborough | Cavan | | |
| Ballina | Mayo | Sligo | |
| Ballinasloe | Galway | Roscommon | |
| Ballinrobe | Galway | Mayo | |
| BallyCastle | Antrim | | |
| Ballymahon | Longford | Westmeath | |
| Ballymena | Antrim | | |
| Ballymoney | Antrim | Derry | |
| Ballyshannon | Donegal | Fermanagh | Leitrim |
| Ballyvaghan | Clare | | |
| Balrothery | Dublin | | |
| Baltinglass | Carlow | Kildare | Wicklow |
| Banbridge | Armagh | Down | |
| Bandon | Cork | | |
| Bantry | Cork | | |
| Bawnboy | Cavan | Leitrim | |
| Belfast | Antrim | Down | |
| Belmullet | Mayo | | |
| Borrisokane | Tipperary | | |
| Boyle | Roscommon | Sligo | |
| Cahersiveen | Kerry | | |
| Callan | Kilkenny | Tipperary | |
| Carlow | Carlow | Kildare | Leix |
| Carrick on Shannon | Leitrim | | |
| Carrick on Suir | Kilkenny | Waterford | |
| Carrickmacross | Monaghan | | |
| Cashel | Tipperary | | |
| Castlebar | Mayo | | |
| Castleblayney | Armagh | Monaghan | |
| Castlecomer | Kilkenny | | |
| Castlederg | Tyrone | | |
| Castlereagh | Roscommon | | |
| Castletown | Cork | | |
| Castletowndelvin | Meath | Westmeath | |
| Cavan | Cavan | | |
| Celbridge | Dublin | Kildare | Meath |
| Claremorris | Mayo | | |
| Clifden | Galway | | |
| Clogheen | Tipperary | Waterford | |
| Clogher | Monaghan | Tyrone | |
| Clonakilty | Cork | | |
| Clones | Fermanagh | Monaghan | |
| Clonmel | Tipperary | Waterford | |
| Coleraine | Antrim | Derry | |
| Cookstown | Tyrone | | |
| Cootehill | Cavan | Monaghan | |
| Cork | Cork | | |
| Corrofin | Clare | | |
| Croom | Limerick | | |
| Dingle | Kerry | | |
| Donaghmore | Leix | | |
| Donegal | Donegal | | |
| Downpatrick | Down | | |
| Drogheda | Louth | Meath | |
| Dromore West | Sligo | | |
| Dublin, North | Dublin | | |
| Dublin, South | Dublin | | |
| Dundalk | Armagh | Louth | Monaghan |
| Dunfanaghy | Donegal | | |
| Dungannon | Tyrone | | |
| Dungarvan | Waterford | | |
| Dunmanway | Cork | | |
| Dunshaughlin | Dublin | Meath | |
| Edenderry | Kildare | Meath | Offaly |
| Ennis | Clare | | |
| Enniscorthy | Carlow | Wexford | |
| Enniskillen | Cavan | Fermanagh | Tyrone |
| Ennistimon | Clare | | |
| Fermoy | Cork | | |
| Galway | Galway | | |
| Glennamaddy | Galway | Roscommon | |
| Glenties | Donegal | | |
| Glin | Kerry | Limerick | |
| Gorey | Wexford | | |
| Gort | Clare | Galway | |
| Gortin | Tyrone | | |
| Granard | Cavan | Longford | Westmeath |
| Inishowen | Donegal | | |
| Kanturk | Cork | | |
| Kells | Cavan | Meath | |
| Kenmare | Kerry | | |
| Kilkeel | Down | | |
| Kilkenny | Kilkenny | | |
| Killadysert | Clare | | |
| Killala | Mayo | | |
| Killarney | Kerry | | |
| Kilmacthomas | Waterford | | |
| Kilmallock | Cork | Limerick | |
| Kilrush | Clare | | |
| Kinsale | Cork | | |
| Larne | Antrim | | |
| Letterkenny | Donegal | | |
| Limerick | Clare | Limerick | |
| Lisburn | Antrim | Down | |
| Lismore | Cork | Waterford | |
| Lisnaskea | Fermanagh | | |
| Listowel | Kerry | | |
| Londonderry | Donegal | Derry | |
| Longford | Longford | | |
| Loughrea | Galway | | |
| Lowtherstown | Fermanagh | Tyrone | |
| Lurgan | Antrim | Armagh | Down |
| Macroom | Cork | | |
| Magherafelt | Derry | | |
| Mallow | Cork | | |
| Manorhamilton | Leitrim | | |
| Middleton | Cork | | |
| Millford | Donegal | | |
| Millstreet | Cork | | |
| Mitchelstown | Cork | Limerick | |
| Mohill | Leitrim | | |
| Monaghan | Monaghan | | |
| Mountbellew | Galway | | |
| Mountmellick | Leix | Offaly | |
| Mullingar | Westmeath | | |
| Naas | Dublin | Kildare | Wicklow |
| Navan | Meath | | |
| Nenagh | Tipperary | | |
| New Ross | Carlow | Kilkenny | Wexford |
| Newcastle | Limerick | | |
| Newport | Mayo | | |
| Newry | Armagh | Down | |
| Newtownards | Down | | |
| Newtown-Limavady | Derry | | |
| Oldcastle | Cavan | Meath | |
| Omagh | Tyrone | | |
| Oughterard | Galway | | |
| Parsonstown | Offaly | Tipperary | |
| Portumna | Galway | | |
| Rathdown | Dublin | Wicklow | |
| Rathdrum | Wicklow | | |
| Rathkeale | Limerick | | |
| Roscommon | Galway | Roscommon | |
| Roscrea | Leix | Offaly | Tipperary |
| Scarriff | Clare | | |
| Shillelagh | Carlow | Wexford | Wicklow |
| Skibbereen | Cork | | |
| Skull | Cork | | |
| Sligo | Sligo | | |
| Strabane | Donegal | Tyrone | |
| Stranolar | Donegal | | |
| Strokestown | Roscommon | | |
| Swineford | Mayo | Roscommon | |
| Thomastown | Kilkenny | | |
| Thurles | Tipperary | | |
| Tipperary | Limerick | Tipperary | |
| Tobercurry | Sligo | | |
| Tralee | Kerry | | |
| Trim | Meath | | |
| Tuam | Galway | | |
| Tulla | Clare | | |
| Tullamore | Offaly | Westmeath | |
| Urlingford | Kilkenny | Tipperary | |
| Waterford | Kilkenny | Waterford | |
| Westport | Mayo | | |
| Wexford | Wexford | | |
| Youghal | Cork | Waterford | |
Last update: 30 January 2020